The last few years we have made it a tradition to have friends over on Halloween.
Our neighborhood is a great place for trick or treating and a big group of kids and adults will make their way from house to house, while some of us stay and pass out the candy to all the cute kiddos coming by.
Usually, we just have a few snacks and drinks, while enjoying our time together. But, this year, I want to kick it up a notch and do something a little more special.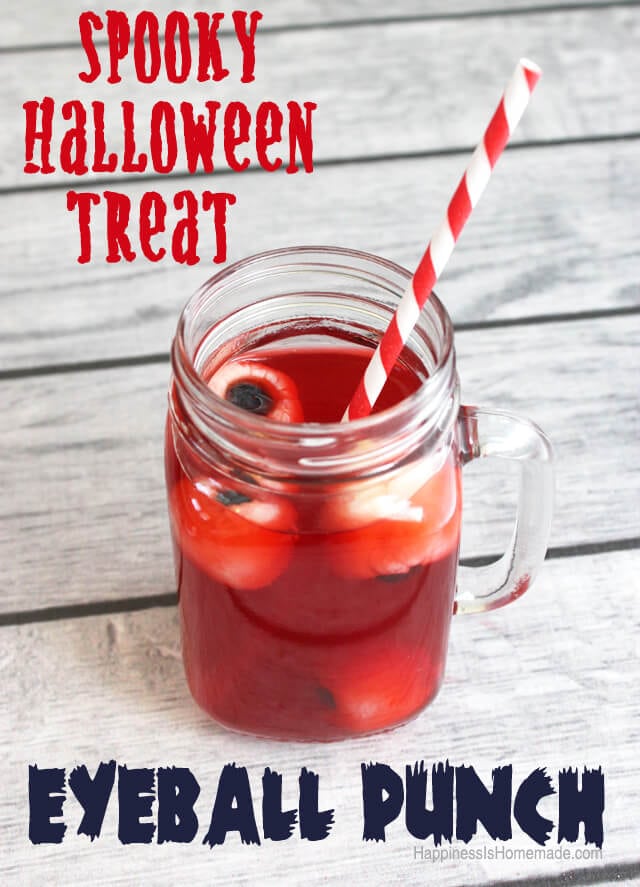 Spooky Eyeball Punch-Happiness is Homemade
The Graveyard Cupcakes that are in the same post as above, are too cute, and look pretty easy, as well.
Dracula Dentures via PopSugar
These Dracula Dentures only take 4 ingredients and don't you know that the kids would love them! They are scarily cute!
No Halloween Party would be complete without a mummy or two.
Mummy Oreos from Queen Latifah
These Oreo Mummies just look tasty and don't look like they would take much time. That's what I'm all about; quick and easy, but too cute.
Funny Bones from Spoonful
I love the combination of sweet and salty and these Funny Bones use chocolate and pretzels, along with marshmallows. Yes, please.
Of course, you can't just have sweets around. You need something else for all those who don't love chocolate and candy (although, personally, I think there is something wrong with those people).
Mummy Dogs from licouponqueen
Pigs in a Blanket are one of my family's favorites, and these Mummy Dogs go right long with the spooky theme. They are easy to make and sure to be a hit.
When everyone has had their fill of spooky fun, I want to send the kiddos home with an extra special treat. These Hand Halloween Party Favors would top off the fun nicely!
Halloween Hand Party Favors
Even one or two of these fun treats would make the night special. Being with friends and spending time together is what makes it so much fun.
What treat are you looking forward to making for a spooky Halloween gathering?